Well, the Awakenings gig on Friday was just the start of my weeken d of Electronic Music as Tangerine Dream were playing the Shepherd's Bush Empire on the following day.
The gig had been billed as the first live performance of Phaedra an album originally released 31 years earlier in 1974. As TD have quite a reputation for re-vamping older material, sometimes so much that it is virtually unrecognisable, it was all a bit up in the air whether this would be one of these Dream Mix gigs or something more true to the spirirt of the original music.
Steve Humphries came down from Manchester to my house just after lunch where we were joined by Pete Challoner, who had offered to drive us down to London. We made good time and got down to London in time to meet up in the designated pub for a beer before heading off to get a bite to eat from Subway, after which we decided it would be best to get a place in the growing queue.
Whilst queueing I handed out some Awakenings flyers and in doing so managed to avoid the TV crew interviewing fans in the queue. I wonder if Steve and Pete's comments will make the final cut?
After a while queueing we got into the venue and got ourselves some nice seats on the first level of the balcony, just behind Dave and Marion Horrod (EM's biggest fans). After a trip to the bar and a chat with Marion it was soon time for the gig to start.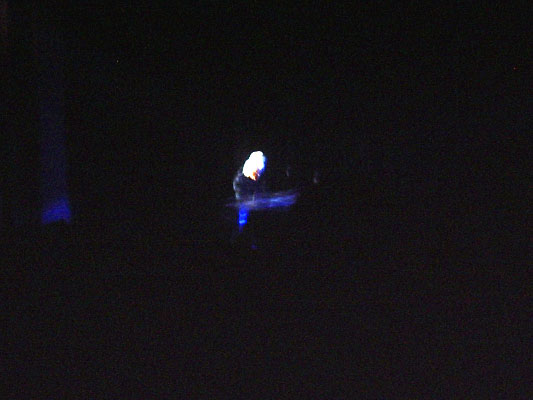 Which it did with Edgar messing around on electric piano, having some fun with the piano intro to Ricochet part 2, after which he joined the rest of the band onstage in the classic 3 player formation, starting off with their backs to the audience then moving to face the audience after a few older pieces.
Onstage throughout the gig were Edgar on e-piano and synths, Jerome on synths and guitar and new guy Thorsten Quaeschning on synths, occasional percussion and e-pinao. They were joined early on by Iris Camaa on percussion and at various points by Linda Spa on sax and synths and Zlatko Perica on guitar.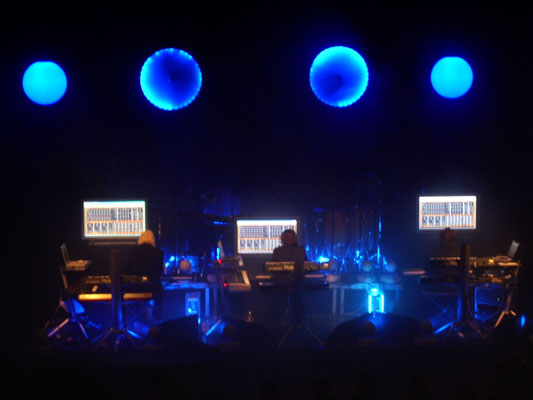 They played a varied set of mostly older material, and mostly sympathetically to the original versions, though there were a few Dream Mix style pieces and one new piece. It was nice to see a few nods to their history, particularly the use of huge monitors showing the Arturia Moog Modular V software, though there is some question whether this was actually used. Also from my vantage point I could see that it looked like everyone was actually playing, but it was obvious that there was alot of pre-recorded backing which was kind of disappointing.
The other thing that was really disappointing was an over zealous security woman enforcing the no photography rule. It really spoiled my night. The ights were pretty good, the sound was pretty clear but seemed to lack a live dynamic.
After the gig it was time to hit the road, but not before a quick kebab to keep us going, especially Steve who wouldn't be home for a long time. How little did we know then how long!
Well, it had been a pretty good day so it was no surprise that something had to go wrong somewhere and for us this was heralded by a a strange flapping noise and a warning light on the M1 about 40 miles from Nottingham.
Luckily Pete had the presence of mind to pull over on to the hard shoulder and get out and have a look. To all intents and purposes, to us non-mechanically minded EM fans, it looked like his fan belt had come off.
Pete was all for taking a chance on driving off, but I persuaded him to call the AA to check what the risks might be. They suggested we err on the side of caution and wait for a patrol. Luckily we did, as it wasn't his fan belt, but the timing belt, unluckily it took over an hour and a quarter for the patrol to arrive, to tell us we had to be relayed back to Nottingham as it wasn't something he could repair.
That hour and a quarter, standing in the cold on the side of the M1 at 1 o'clock in the morning was incredibly bizarre. We were all a bit tired, more than a bit pissed off with our bad luck and getting quite cold. After we had finished totally dissecting the gig and deciding that TD were a rubbish live act we ended up making up silly songs about waiting for the AA man to the tunes of such classics as Autobahn and Cars.
I think Steve got home about 5:30 am and Pete was lucky to not do any major damage to his car. What a night - there's always something isn't there.
More photos
here